Ernest Long Neville: The Educator Who Impacted Generations
Item request has been placed!
×
Item request cannot be made.
×
Processing Request
Much of the early excellence found in Monroe City Schools can be credited to a man born January 17, 1876 in Damascus, North Carolina. Ernest Long Neville, the second of 15 children, was born to William and Sarah Neville, a family who valued education. Neville's grandparents donated land for the use of a university in North Carolina and his parents sent all their children to the neighborhood school. Neville's leadership qualities were evident at an early age as he was selected to carry the lunch basket to school each day so that he and each of his siblings would get their share.
When Neville finished high school, he borrowed money to attend the University of North Carolina at Chapel Hill. After graduating in 1900, he returned home to teach. He also led Sunday school classes. Anxious to repay his debt, he left North Carolina in 1901 for Louisiana, where he took a better paying position as a Latin teacher and assistant principal at Monroe City High School. It was there Neville met Allie Davis who was also a teacher. The couple married June 4, 1904. They traveled back to North Carolina for their honeymoon so that Allie could meet Neville's family and then the happy couple returned to Monroe to make their home. In 1910, Neville became principal of Monroe City High School. As the system expanded to include more elementary schools, Neville became superintendent of schools.
Monroe City High School offered two diplomas for their graduates. One was the state approved Louisiana Diploma, and the other was the Monroe City High School Diploma showing advanced academic coursework. With his high academic standards, Neville had the approval of the people of Monroe, especially teachers. In the 1922 Squeedunk yearbook, Julia Wossman wrote of the academic excellence stressed by Neville. Courses offered included 4 years of mathematics and English, and 3 years of French and Latin. Wossman went on to become the first principal of Barkdull Faulk School, named for Leonidas Barkdull Faulk, a well-known Monroe surgeon who died while serving in the Medical Corps during World War I. Later, Wossman High School was named for Julia Wossman. In 1931, when a new city school was built, it was named Neville High School in honor of Ernest Neville. Neville High School also offered a separate "Neville Diploma" showing completion of advanced coursework. While Ernest Neville had high academic standards, he also was a fair and even-tempered mentor to his students. The book, Who's Who in the Twin Cities published in 1931 by H. H. Brinsmade, states that Neville has never been known to lose his temper.
Ernest Neville retired as superintendent in the fall of 1948. Monroe Mayor George Breece issued a proclamation in honor of Ernest Neville and his long and faithful service. December 20, 1948 was set aside and known as E.L. Neville Day for his contribution to education and the development of the Monroe School System. The public was invited to attend E.L. Neville Day where a program was held at 8:00 in the evening at Neville High School. The closing event of the program was a presentation to Neville by alumni, associates, and Monroe friends and admirers of a "fine new Dodge custom sedan" according to the Monroe Morning World December 19, 1948.
Ernest and Allie Neville celebrated their 50th wedding anniversary June 1, 1954. After his retirement, Neville enjoyed the construction and navigation of boats on the Ouachita River. He was responsible for the free Lyceum courses given in the City School auditorium, and he was active in the Masons, the Rotary Club and the Red Cross. He was a board member for the Louisiana Training Institute and he enjoyed repairing clocks in his free time with his favorite being the old-timey kind. He died March 12, 1957. His death was announced on the front page of the Monroe News Star that day and Neville High School was closed the next day, March 13, 1957. All sports events for Neville High School were cancelled March 12 and 13 in his honor.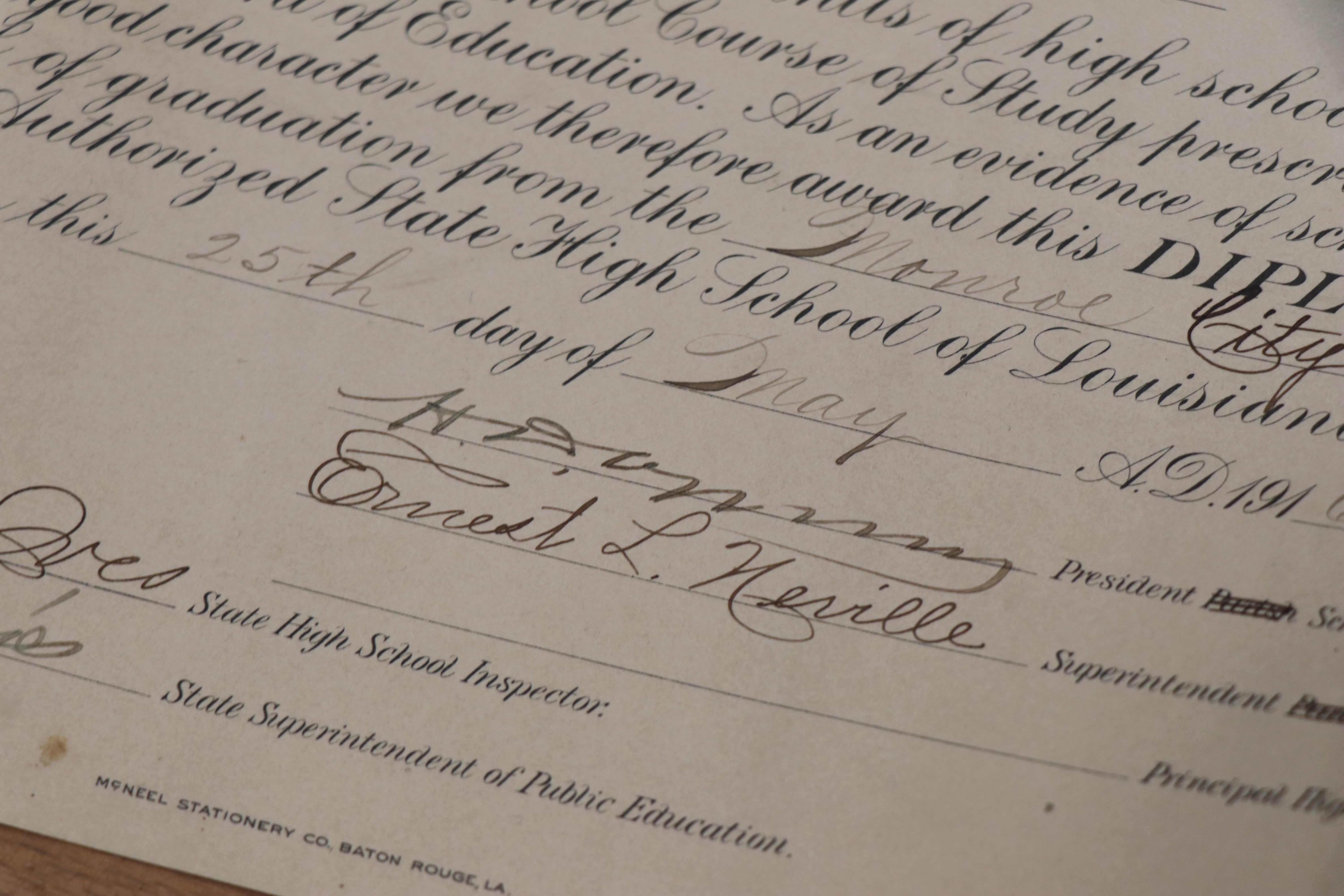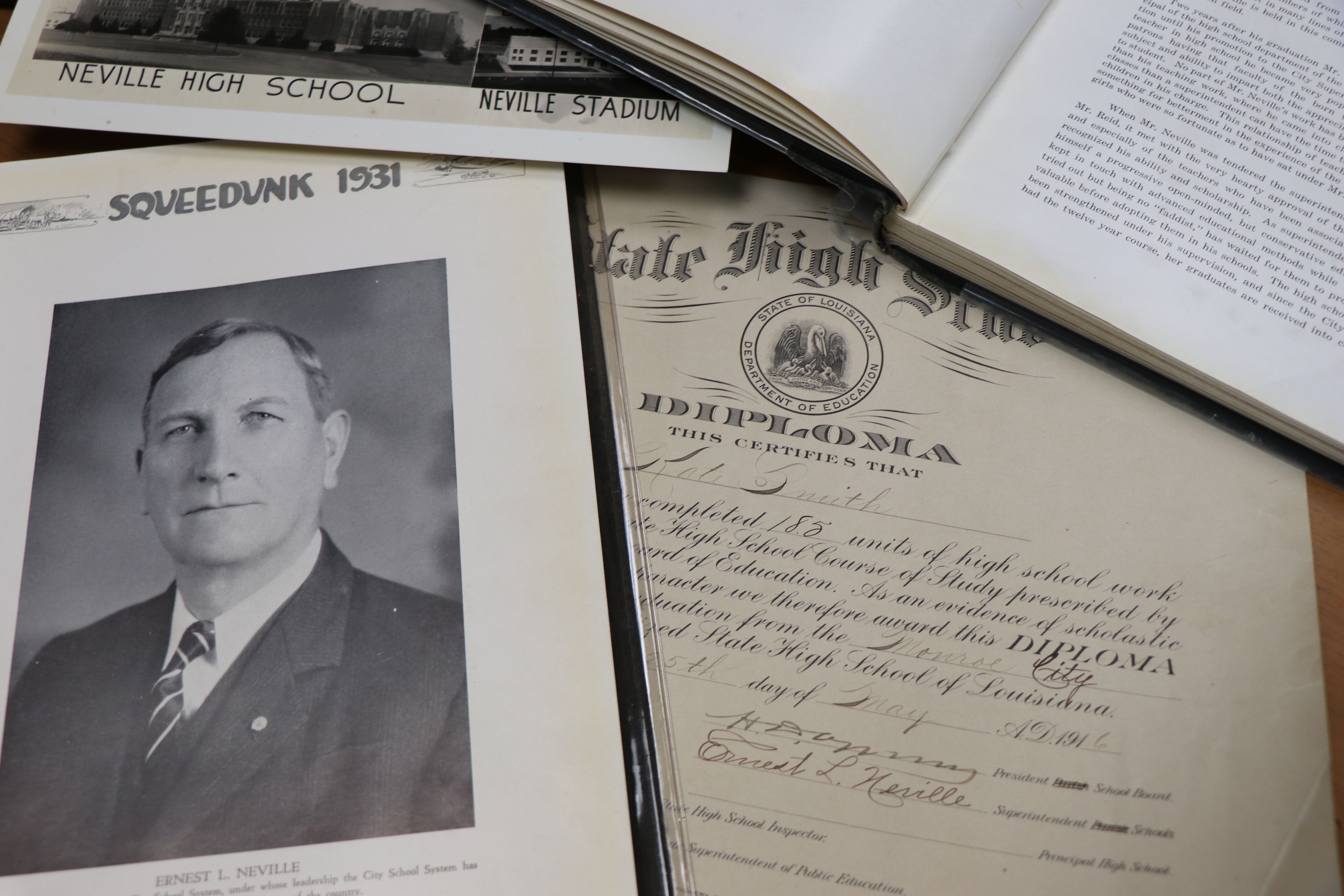 Sources:
Who's Who in the Twin Cities published by H. H. Brinsmade 1931
The Hour Glass August 15, 1933 article "Monroe's Beloved Educator" (LDL)
Monroe News Star Oct. 26, 1932 article "Monroe's School System Not Old"
Monroe Morning World Dec. 19, 1948 proclamation
Monroe Morning World June 25, 1966 2 Diplomas at Neville High School
Monroe News Star World March 12, 1957 obit
Ouachita Parish Public Library Historic Documents, Kate Smith Diplomas